Zamów prenumeratę AUDIO, a otrzymasz płytę CD i abonament w serwisie streamingowym WIMP
Newsy
Jeśli jesteś stałym czytelnikiem magazynu AUDIO lub planujesz nim zostać, mamy dla Ciebie świetną propozycję. Zamów prenumeratę naszego miesięcznika, a otrzymasz jedną z wybranych przez siebie płyt CD z najwyższej półki i abonament w serwisie streamingowym WIMP.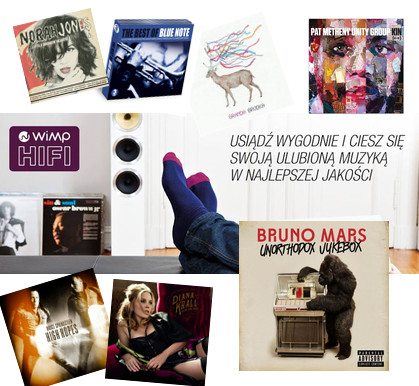 Oto nasza audiofilska kolekcja płyt:

"A Food In The Door: The Best of Pink Floyd"
A Fine Frenzy "Bomb In Birdcage"
Agnieszka Hekiert "Stories"
AIR "Le Voyage Dance La Luna"
Ambrose Akinmusire "The imagined savior is far easier to paint"
Amos Lee "Mission Bell"
Amos Lee "Mountains Of Sorrow, Rivers Of Song"
Andrzej Bachleda "Balanga:
Andrzej Sikorowski "Jeść, pić, kochać / Złota kolekcja"
Andrzej Zaucha "Nieobecność / Złota Kolekcja"
Ania Rusowicz "Genesis"
Anja Garbarek "Briefly Shaking"
Anoushka Shankar "Traces Of You"
Anna German "Nie jestem taka / Złota kolekcja"
Arctic Monkeys - "Humbug"
Artur Dutkiewicz Trio "Prana"
Audiofeels "Un-Finished"
"Bach Rewrite"
Bajm "Ballady 1+2"
Bajm "Blondynka"
Bebe "Pafuera Teleranas"
Beck "Morning Phase"
Ben Harper "Give Till It"s Gone"
Birdy "Fire Within"
Black Sabbath "13"
Blur "Midlife - A Beginner`s Guide To Blur"
Bombino "Nomad"
Bruce Springsteen "Wrecking Ball"
Bruce Springsteen "High Hopes"
Bruno Mars "Unorthodox Jukebox"
Bryan Ferry "Dylanesque"
Carlos Santana "Shape Shifter"
Carminho "Alma"
Caro Glazer "Crossings Project"
Cassandra Wilson "Closer To You"
Cassandra Wilson "Silver Pony"
Celine Dion "Loved Me Back To Life"
Cesaria Evora "Mae Carinhosa"
Chick Corea & Gary Burton "Hot House"
"Chillout After Midnight cz.4"
Coldplay "Ghost Stories" NOWOŚĆ
Chris Botti "Impressions"
Chris Rea "Santo Spirito Blues"
Christopher Cross "A Night In Paris"
Corinne Bailey Rae "Corinne Bailey Rae"
Corinne Bailey Rae "The Sea"
David Garrett "Garret vs. Paganini"
David Gilmour "Live In Gdańsk"
David Gilmour "On An Island"
Dean Martin "Essential Love Songs"
Dirty Loops "Loopfield"
Diana Krall, "Glad Rag Doll"
Donald Fagen "Sunken Condos"
Dorota Miśkiewicz "Ale"
Elektryczne Gitary "Nic mnie nie rusza"
Elton John "Good Bye Yellow Brick Road"
Elvis Costello "Wise Up Ghost"
Elżbieta Adamiak "Trwaj chwilo trwaj"
Empire Of The Sun "Walking on a Dream"
Fredrika Stahl "Off To Dance"
Genesis "Turn It On Again"
Gorillaz "The Singles Collection 2001-2011"
Górecki "Miserere"
Grzegorz Turnau "Uno Momentis Mortis"
Habakuk "A ty siej"
Hugh Laurie "Didn`t it Rain"
"I Love Covers"
"I Love Christmas... Ever"
"I Love Christmas... Ever 2"
Imelda May "Tribal" NOWOŚĆ
Ingolf Wunder "300"
Irma "Letter To The Lord"
Iron Maiden "En Vivo"
Iron Maiden "Maiden England '88"
Jacek Kaczmarski "Źródło"
"Jack Strong" - muzyka filmowa
Janelle Monae "The Electric Lady"
Janusz Olejniczak "Koncerty"
Jarret "Sleeper"
Jason Derulo "Tattoos"
Jeff Bridges
Jessie Cook "The Blue Guitar Sessions"
Jim Tomlinson, Stacey Kent "The Lyric"
Jimi Hendrix "People Hell and Angels"
Joe Cocker "Heart & Soul"
Johnny Cash "Cut Among The Stars"
Jonasz Kofta "Twój portret"
Jose James "While You Were Sleeping" NOWOŚĆ
Josh Groban "All That Echoes"
Joshua Redman "Walking Shadows"
Joss Stone "The Soul Sessions"
K.D.Lang "Sing It Loud"
Kapela ze wsi Warszawa - "Muzykanty wielkiego pola"
Katarzyna Groniec " Pin-Up Princess"
Kate Bush "50 Words For Snow"
Keren Ann "Keren Ann"
Kolędy i pastorałki (Złota kolekcja)
Korn "Untilted"
Kroke "Feelharmony"
Krzysztof Herdzin "Jesteś światłem"
Krzysztof Herdzin "Looking For Balance"
Krzysztof Krawczyk "Polski Songbook"
Kylie Minogue "The Abbey Road Sessions"
Lora Szafran "Sekrety życia Leonarda Cohena"
Lorena McKennit "The Journey So Fat. The Best Of"
M. Sikorowska, A. Sikorowski "Sprawa rodzinna"
Maanam "Kocham Cię kochanie moje"
Madeleine Peyroux "The Blue Room"
Magda Umer "O niebieskim, pachnącym groszku"
Malia "Convergence"
Marek Grechuta "Złota kolekcja"
Maria Peszek "Jezus Maria Peszek"
Mariza "Fado Tradicional"
Mariza "Terra Em Concerto"
Marsalis & Clapton "Play The Blues"
Maryla Rodowicz "Buty 2"
Matt Bianco "Hideaway"
Melody Gardot "The Absence"
Michael Bolton "A Tribute To Hitsuille USA" NOWOŚĆ
Michael Buble "To Be Loved"
Michał Lorenc "Czarny Czwartek"
Michał Urbaniak "Miles of Blue"
Mick Hucknall "American Soul"
Milos Karadaglic "Mediterraneo"
Mirek Czyżykiewicz "Ma Cherie"
Mirosław Czyżykiewicz "Ave"
Monika Brodka "Granda"
Monsieur Perine "Hecho A Mano" NOWOŚĆ
Motorhead "The World Is Yours"
My Riot "Sweet Noise"
Myslovitz "1.577"
Natalie Cole "En Espanol"
Natalia Przybysz "Kozmic Blues"
Neil Young "Psychodellic Pill"
Nigel Kennedy "Blue Note Sessions"
Nikki Yanofsky "Litlle Secret"
Norah Jones "Come Away With Me"
Norah Jones "Little Broken Hearts"
NOVI SINGERS "Rien Ne Va Plus"
Obywatel GC "Obywatel świata"
Path Metheny "Unity Band"
Path Metheny /John Zorn "John Zorn's Book of Angels"
Path Metheny Unity Group "KIN"
Paul McCartney "Kisses On The Bottom"
Paul McCartney "New"
Paul Simon "Live In New York City"
Paul Simon "Live In New York City"
Pet Shop Boys "Elysium"
Peter Gabriel "New Blood"
Pixies "Indie Cindy" NOWOŚĆ
R.E.M. "Part Lies, Part Heart..."
"RMF FM 2014" NOWOŚĆ
Robert Glasper "Black Radio"
Roxette "Hits"
Roxette "Travelling"
Rumer "Boys Don`t Cry"
Rumer "Seasons Of My Soul"
Ryszard Rynkowski "Zachwyt"
Sarah Brightman "Symphony - Live in Vienna"
Seal "Soul 2"
Simply Red "Farewell"
Sorry Boys "Hard Working Classes"
Stacey Kent "Breakfast on The Morning Tram"
Stacey Kent "Raconte - moi..."
Suzanne Vega "Close up"
T.LOVE "Old Is Gold"
Theleolonius Monk "Paris 1969"
The Nigel Kennedy Quintet "Shhh"
The Best Kids...Ever
The Best LOVE...Ever 2
The Best Rock Ballads...Ever
The Best Rock Ballads...Ever 2!
The Best Of Blue Note
The Best Polish Love Songs...Ever
Tina Turner "Tina"
Tom Jones "24 Hours"
Tori Amos "Unrepentant Geraldines"
Urszula Dudziak "Superband At Jazz Cafe Live"
Van Morrisson "At The Movies"
Van Morrisson "Born To Sing"
Voice Band & Anita Lipnicka "W siódmym niebie"
W. Wynton, N.Marsalis "Here We Go Again"
Wojciech Młynarski "Złota Kolekcja"
Wojciech Młynarski "Złota kolekcja"
PISZCIE I DZWOŃCIE!
Dział Prenumeraty Wydawnictwa AVT, ul. Leszczynowa 11, 03-197 Warszawa, faks: (22)2578400, tel.: (22)2578422, e-mail: prenumerata@avt.pl